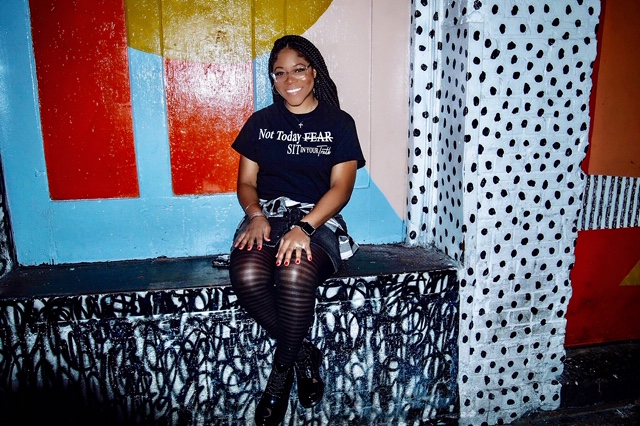 Embrace Your Fear
I want you to take a moment and reflect on something you are fearful of or something you are fearful to do. Ask yourself, how has this fear paralyzed me or my decisions? Now tell yourself, I will no longer allow this fear to dictate my actions. I will face it, move past it and live through it. Truth is, each of us will experience a form of fear. This fear will either motivate us to cultivate the life God called us to have or it will limit our wins by keeping us fearful and stagnant. How we respond to / live with the fear that arises in our lives can be detrimental or beneficial to our growth and development.
One of my fears was to create Sit In Your Truth. I was fearful of rejection and failure; which are two of the world's leading dream killers! The fear I exhibited was a limiting fear in the form of "self". Meaning, I was the one putting a limit on what God called me to do. I told myself, if this was needed it would have been created already. Or, people are not going to want to share their experiences with you. Until one day I realized, my fear was an illusion. I had made up these frightening stories and forced myself into believing they were true. In an effort to move past this, I required myself to create new stories filled with positive expectations of the future.
Below I have listed ways in which I overcame my fears and created my movement.
Have Faith In Your Purpose
God has placed a special calling over each and every one of our lives. I have always been an advocate for healing and growth. When God gave me this idea, I fought it. Although I accepted the truths of my life and was willing to help others overcome similar experiences, I was fearful of how the world would receive me. I prayed and asked God for the strength to tell my fears to find another resting place. What God revealed to me during the process of my business creation is that my faith needed to be stronger than my fear. So often we are fearful to dream big for whatever reason we tell ourselves. What we need to do is offset that fear with faith. In doing so, we can rely on God's strength to overcome our fears by allowing faith to lead our path; instead of allowing fear to dictate what we allow ourselves to do.
Accept Uncertainty
We cannot predict the future. Fear sets in when we cannot control the variables in the situation. If no one else has told you, I will be the first to tell you that on this journey of life, things will go left, right and sideways. A very true saying that I remind myself of when I attempt to predict the outcomes of my plans is "If you want to hear the Lord laugh, tell him what you have planned". A key factor in overcoming fear of uncertainty is to stay present. Be grateful for the entire journey as it will bring you great reward in the end.
You Are Capable Of Much More Than You Believe
Many of us have self-limiting thoughts. We tell ourselves we are not worthy of success, people won't support us, I don't have enough time, I don't have a big enough following etc. What we need to start telling ourselves is that we serve a big enough God that despite how we feel about ourselves, God can use us. YOU DESERVE EVERYTHING YOU HAVE COMING YOUR WAY! If you are not equipped right now, God will put the right people into your life. I had no idea how to create a brand; thus, I told myself I might as well not start because I would not know how to sustain it. What God told me was to leverage my resources. At most times, those resources are your friends. You are not going to be the smartest or most creative at everything; stop letting your shortcomings alter your dreams.
Truth Take Away
Do not allow fear to hold you back or suppress your greatness. It has been stated that fear is the thief of the presence. Are you going to waste your precious time avoiding the things you are fearful of? Or are you going to take the necessary steps to overcoming them? Share your TRUTHS with me!